Take our free mobile microlearning course through EdApp!
This course was developed as part of our Early Years Resources project whose goal is to strengthen the capacity of foster caregivers to better support the mental, emotional and social development of children under the age of six. It is important that foster parents understand the importance of early childhood development and their pivotal role in supporting children and families during this critical stage. This project is aligned with the Ministry of Children and Family Development's commitment under the 'A Pathway to Hope' Mental Health Strategy whose cornerstone is child and youth mental health.
Simply follow the login guide below and gain access to five modules with animated videos, narrated content and game-based knowledge tests.
Download your certificate upon successful completion of the course.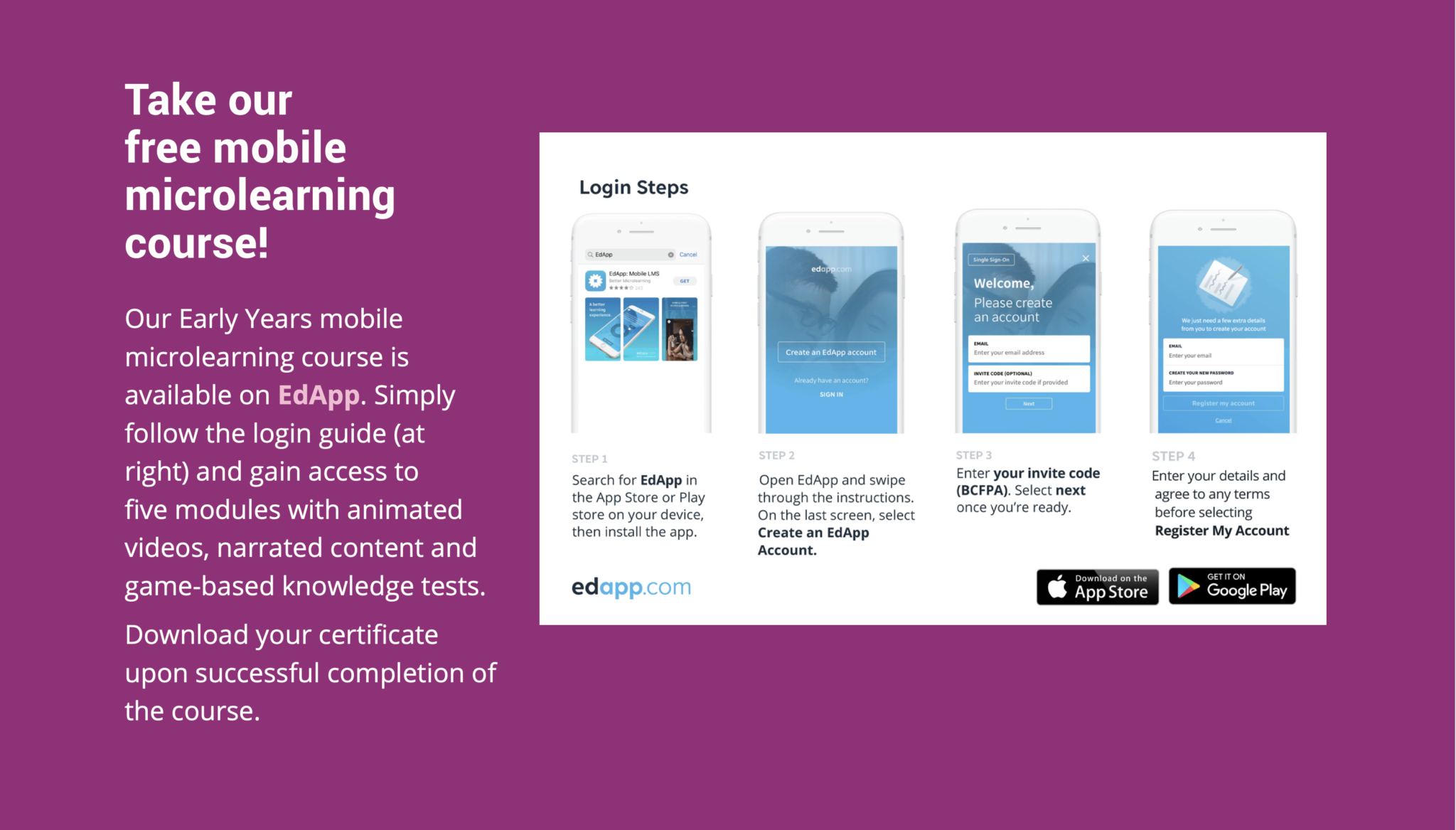 Main:
604-544-1110
Toll-Free Foster Parent Line:
1-800-663-9999
Office hours: 8:30 am - 4:00 pm, Monday to Friday
Foster Parent Support Line (MCFD)​:
1-888-495-4440
Accessible weekdays from 4:00pm to 12:45am
Statutory Holidays & Weekends: 8:00am to 12:45am
​
Foster parents are encouraged to call this number in the event of an EMERGENCY or CRISIS occurring after regular office hours:
​
If you think a child or youth under 19 years of age is being abused or neglected, you have the legal duty to report your concern to a child welfare worker. Phone 1 800 663-9122 at any time of the day or night. Visit the Government of BC website for more info.
​
BCFPA Provincial Office
Suite 208 - 20641 Logan Avenue
Langley, BC V3A 7R3
Fill out our contact form...
Subscribe to Our Newsletter
Charitable Registration #
106778079 RR 0001
Our work takes place on the traditional and unceded Coast Salish territories of the Kwantlen, Katzie, Matsqui and Semiahmoo First Nations. BCFPA is committed to reconciliation with all Indigenous communities, and creating a space where we listen, learn and grow together.
© 2021 BC Foster Parents. Site design by Mighty Sparrow Design.